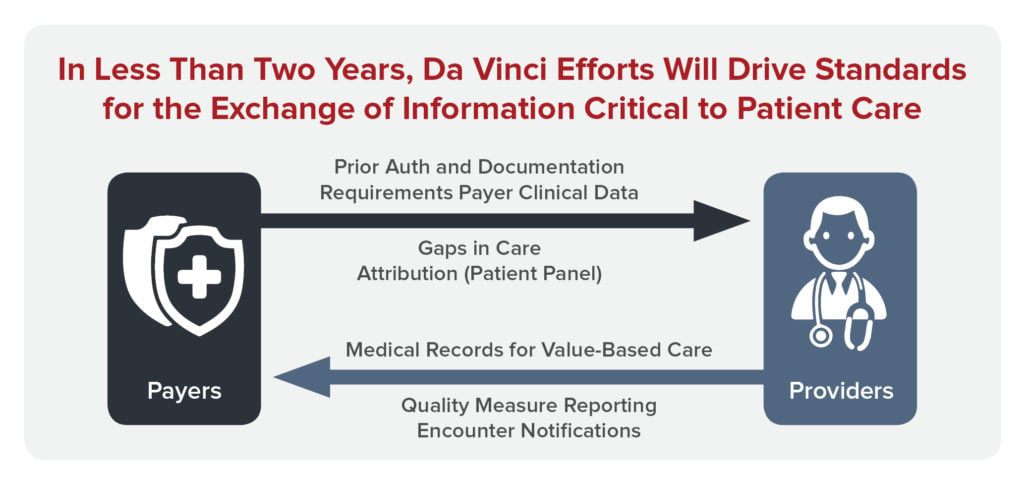 By Jocelyn Keegan, Point-of-Care Partners Payer Practice Lead and Da Vinci Program Manager
As 2018 draws to a close, the future is bright for the Da Vinci Project. Da Vinci is an industry-driven initiative to create a sustainable model of collaboration across competitors to remove barriers and unleash the bidirectional data necessary to fuel value-based care. The overarching goal is to improve appropriate clinical data sharing and metrics among providers and payers. Da Vinci leverages Health Level Seven's (HL7's) FHIR (Fast Healthcare Interoperable Resource) platform.
2018 Accomplishments. We have made a lot progress this year, including:
In January 2018, stakeholders approved the formation of Da Vinci and work began on the initial use cases. Currently, Da Vinci members are identifying payer/provider trading partners to develop and validate the artifacts and tools for two targeted use cases in 2018.
In Summer 2018, the membership added two additional use cases:
In Fall 2018, the initial two use case Implementation Guides were balloted at HL7. Both Guides and Reference Implementation Materials are available on confluence.hl7.org.
27 organizations have joined Da Vinci so far. They include 12 payers, 3 vendors of electronic health records (EHRs); 10 vendors of health information technology products; and a growing number of providers. (Click here to see the individual members).
Members have established a governance model that will ensure equal representation from stakeholders and offer transparency in order to make Da Vinci a sustainable model. On the business side, Da Vinci runs lean and smart. About two-thirds of membership dues go directly to project costs. Each staff member participating from member organizations averages 10-15 hours per week per project. In-kind space and support are provided by HL7, HIMSS and Optum Labs.
What's on deck for 2019? In 2019, Da Vinci members plan to build on successes in 2018, continue to support existing FHIR versions, and adopt existing profiles where possible (Argonaut, US-Core, QI-Core). Upcoming activities include:
Continue to drive members to test, pilot, and refine our first two use cases and ballot a second version of the Implementation Guides in May of 2019.
Progress the work we have started on DTR and eHRx and take Implementation Guides to ballot in 2019.
Prioritize and complete the initial work on up to four new potential use cases.
Want to learn more? Please reach out to me, as Da Vinci Program Manager, at jocelyn.keegan@pocp.com. You can also follow the Da Vinci page on HL7's website (click here).