In recent years, electronic prescribing (ePrescribing) and electronic prescribing of controlled substances (EPCS) have become the norm in the healthcare industry. While the adoption of these standards and processes have matured and is widely accepted, it is important to recognize that the policies surrounding implementation and day-to-day use are constantly evolving, especially at the state level. This blog explores the dynamic nature of medication prescribing regulations, highlighting the variations across different states; the impact on prescribers, including pharmacists; and why health tech vendors providing and supporting ePrescribing functionality need to be vigilant.

State-specific Policies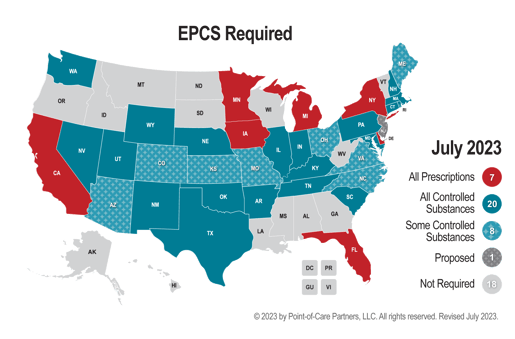 Although there are policies that mandate the use of ePrescribing and EPCS, the specifics of allowances and requirements vary by state. It's essential to understand that the absence of a mandate in a state does not indicate a lack of activity in these areas. Prescribers who choose to ePrescribe still need to comply with the technical means necessary to do so.

The Quirks of Controlled Substances (CS) Scheduling
When a drug is included or added to a controlled substance schedule at the federal level, it becomes subjected to a range of regulations. These policies cover electronic prescribing, reporting, and querying through prescription drug monitoring programs (PDMPs), restrictions on quantity and days' supply, prescribing permissions, refill limitations, prescription transfers, emergency refills, storage requirements, shipping or delivery protocols, and compliance with state and federal reporting requirements. It's important to note that these policies apply to all prescribers, regardless of whether their state has an EPCS mandate.

While some substances may not be categorized as controlled substances at the federal level, they might be classified as such in certain states. It's essential to note that adherence to the previously mentioned policies might not be mandatory until a substance is officially designated as a controlled substance in that particular state. However, it's possible that specific products could still be subject to exemptions and exceptions.

Who Can Prescribe? Well, That Depends...
The state policies regarding mid-level prescribers, such as physician assistants (PAs), and advanced practice registered nurses (APRNs), have undergone notable changes due, in part, to access issues. Prescribing authority for pharmacists has also expanded in some states allowing pharmacists to prescribe medications, adjust drug therapies and administer vaccines. As states grow more confident in the training and expertise of these prescribers, they are easing certain limitations. Requirements for co-signature for PAs and APRNs are being eliminated, supervisory roles are shifting to collaborative practice agreements, and some mid-level prescribers are having their prescribing restrictions lifted based on their accumulated experience. The expanding prescribing authority of pharmacists at the state level may include collaborative prescribing agreements, autonomous prescribing based on statewide protocols and additional credentialing and privileging to enhance the authority of pharmacists to provide patient care services.

What Does a Valid Prescription Look Like? You Got It, That Depends
States establish policies and criteria for non-controlled prescriptions, determining prescriptive authority and related requirements. Although electronic prescribing is widely supported, all states still allow for written prescriptions in situations where electronic methods are not feasible. State-specific differences exist, including variations on signature lines, text formats for quantities and refills, co-signature necessities, and the specific criteria to validate a prescription.

Effective Lobbying Create a Patchwork of Exceptions and Exemptions
State professional associations and patient advocacy groups continue to lobby for global exemptions or exceptions to prescriber rules for their practice constituents. For instance, prescribers like veterinarians, who do not have National Provider Identifiers (NPIs) required for PDMP reporting, may be exempted from PDMP mandates and ePrescribing. Some professions allow exemptions if the prescriber issues a limited number of controlled substance prescriptions in a year or if they are prescribing in a specialty clinic or in a long-term post-acute care setting.

The Impact of Shifting Substance Abuse Treatment Paradigms
The substance abuse treatment arena has witnessed significant activity. While federal laws on buprenorphine and other treatments have been relaxed, their acceptance and implementation at the state level differ. Education requirements for prescribing controlled substances in substance abuse treatment are being developed to monitor compliance and ensure proper tracking and auditing.

Technological Issues and Failures
When a mandated ePrescription fails due to technical difficulties, the process for resolution may vary depending on whether it involves a controlled substance or a non-controlled substance. Factors such as the permissibility of faxing, the need for a wet signature, and the authorization of a faxed prescription by an office agent can influence the steps taken to address the issue.

Payer Influence
Various payer types, such as Medicare Part D, Medicaid, CHIP, Health Insurance Exchanges, and commercial payers, impose distinct prescribing regulations. For example, Medicare Part D enforces a mandatory ePrescribing law for covered Part D prescriptions, whereas commercial payers may have exemptions from certain rules. It's crucial for prescribers to be mindful of these variations based on the patient's insurance coverage to ensure compliance and proper prescription practices.

By understanding the nuanced differences in EPCS policies and remaining informed about the changing landscape, healthcare technology vendors can ensure their solutions assist prescribers in confidently navigating this complex terrain. This approach helps prescribers avoid fines and punitive actions, ultimately benefiting patient care and safety.

POCP's Regulatory Resource Center team monitors and researches state-level policies daily and delivers findings via various subscription services enabling our clients to find the relevant policy information they need without conducting hundreds of hours of research. To learn more, visit our website or reach out to me at kim.boyd@pocp.com to set up a demonstration.