Reading and analyzing proposed rules is a necessary, albeit time consuming task. In order to help healthcare stakeholders, we've compiled some highlights of what is included in the Advancing Interoperability and Improving Prior Authorization Processes proposed rule released on December 13th, 2022. The intent of this proposed rule is to improve patient and provider access to health information and to streamline processes related to PA for medical items and services. The deadline for comments is March 13, 2023.
The CMS announcement described the proposed rule as part of the Biden Administration's commitment to modernize the nation's healthcare system by "increasing health data exchange and investing in interoperability." CMS Administrator Chiquita Brooks-LaSure said the aim is to "improve the care experience across providers, patients, and caregivers – helping us to address avoidable delays in patient care and achieve better health outcomes for all."
This new NPRM adds on to other CMS regulatory efforts specifically the CMS Interoperability and Patient Access Final Rule, finalized in March 2020. This final rule gave patients access to their health information. It focused on driving interoperability and patient access to health information by liberating data. The new NPRM also addresses industry feedback received on the CMS December 2020 Interoperability Proposed Rule. The provisions in the December 2020 proposal emphasized the need to improve health information exchange to achieve appropriate and necessary access to complete health records for patients, healthcare providers, and payers. It also focused on efforts to improve PA processes through policies and technology, to help ensure that patients remain at the center of their own care.
CMS received over 251 comments to the December 2020 Interoperability proposed rule and in true due diligence fashion has taken the feedback received over the course of the last two years into consideration in this newly released NPRM.
The NPRM signals CMS' continued commitment to increasing efficiency by ensuring health information is readily available at the point of care by leveraging FHIR standards. The majority of the provisions outlined in the NPRM would be required as of as of January 1, 2026. CMS also seeks comments on this proposed timeline.
General Overview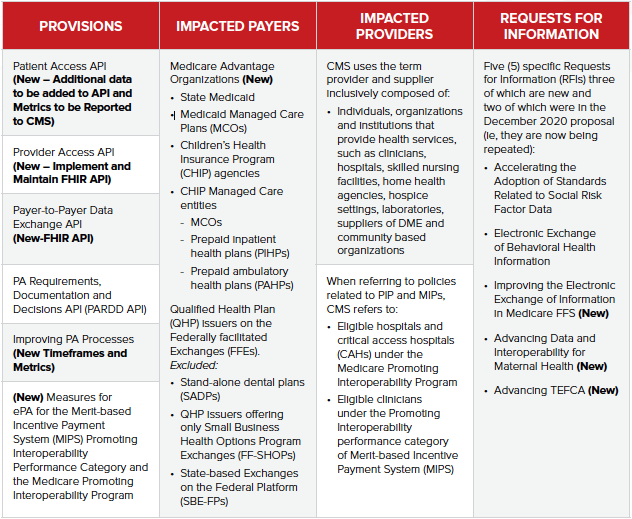 Specifics for Patient Access APIs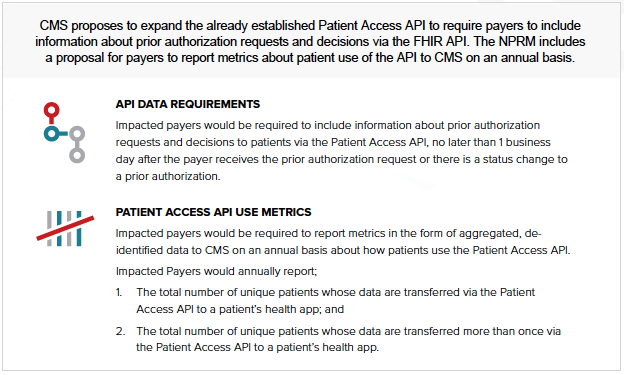 In the new NPRM, CMS refers to the Patient Access API as a single API for the purpose of describing the functionality; the same functionality may be achieved with one or multiple APIs, depending on the implementation approach chosen by the applicable payer.
In relation to individuals' requests for an electronic copy of their PHI, as health apps become more common, CMS believes all impacted payers should be required to provide individuals' ePHI via an industry-standard FHIR API.
Specifics for Provider Access APIs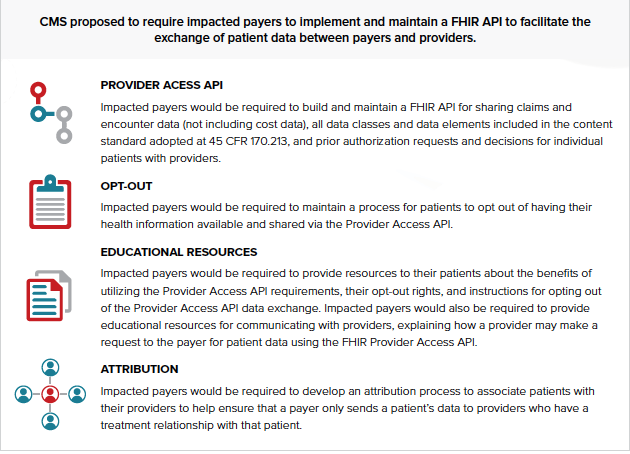 To improve coordination across the care continuum as well as movement toward value-based care, CMS is proposing to require that impacted payers implement and maintain a Provider Access API consistent with the technical standards finalized in the CMS Interoperability and Patient Access final rule (HL7 FHIR version 4.0.1). That API can be used to exchange current patient data from payers to providers including all data classes and data elements (currently USCDI version 1), adjudicated claims and encounter data (not including provider remittances and enrollee cost sharing information), and patient's prior authorization decisions.
Specifics for Payer to Payer APIs
Since the CMS Interoperability and Patient Access final rule was finalized in May 2020, multiple impacted payers reported to CMS that the lack of technical specifications for the payer-to-payer data exchange requirement in the final rule was creating challenges for implementation. They said those challenges could lead to incompatible implementations across the industry, poor data quality, operational issues, and increased administrative burdens. Impacted payers were also concerned that different implementation approaches could create gaps in patient health information, which would directly conflict with the intended goal of interoperable payer-to-payer data exchange.
In this new NPRM, CMS is rescinding the previous payer-to-payer data exchange requirements and replacing them with a new policy. CMS is now proposing to apply the new Payer-to-Payer API requirements to Medicaid and CHIP FFS programs, in addition to other impacted payers. The new proposed policy would require impacted payers to build a Payer-to-Payer API to facilitate the exchange of patient information between payers, both at a patient's request and at the start of coverage with a new payer.
Specifics for Improving Prior Authorization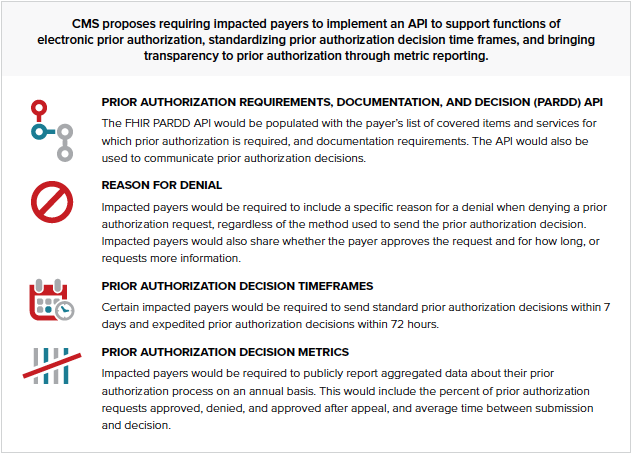 The anticipated benefits of the PARDD API are in part contingent upon providers using health IT products that can interact with payers' APIs. In section II.E. of the NPRM, CMS proposes a new measure for the MIPS Promoting Interoperability performance category for MIPS eligible clinicians and the Medicare Promoting Interoperability Program for eligible hospitals and CAHs that would require healthcare providers to request a prior authorization electronically using data from certified electronic health record technology (CEHRT) using a payer's PARDD API.
Specifics for ePA Measure
CMS proposes to add a new measure called Electronic Prior Authorization to the Medicare Promoting Interoperability Program and Quality Payment Program (QPP)–MIPS to incentivize clinician and hospital use of the PARDD API starting calendar year (CY) 2026.
Measures as part of the MIPS program would require reporting the numerator: number of unique prior authorizations that are requested from a PARDD API using data from CEHRT and the denominator: number of unique prior authorizations requested for items/services (excluding drugs) ordered by the MIPS eligible clinician/ordered for patients discharged from the eligible hospital or CAH inpatient or emergency department during the applicable performance period/EHR reporting period. These would be required but unscored measures until 2026.
API Interoperability Standards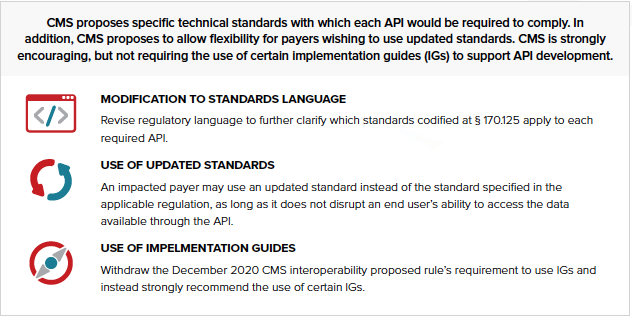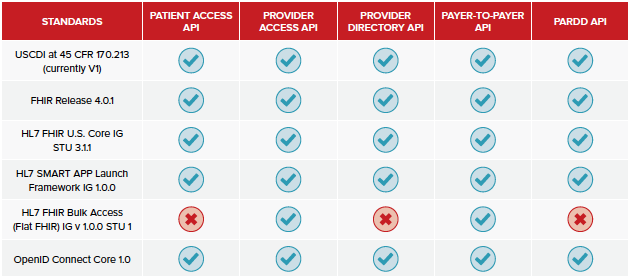 Recommended IGs by API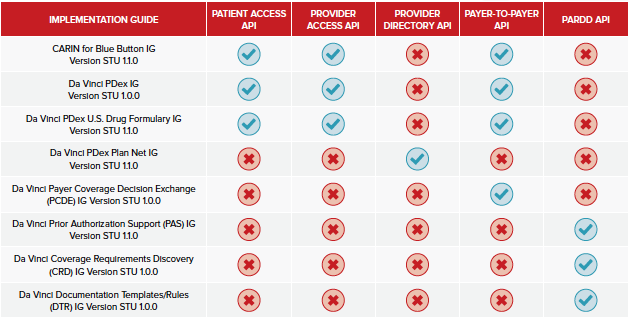 This summary was an excerpt from our quarterly Interoperability Outlook subscription service. You can learn more about this service and request a demo here.
If you and your organization need help understanding this or any of the other recently published proposed rules and what it/they may mean for your interoperability roadmap, please reach out to us to set up a chat by emailing Brian Dwyer brian.dwyer@pocp.com .