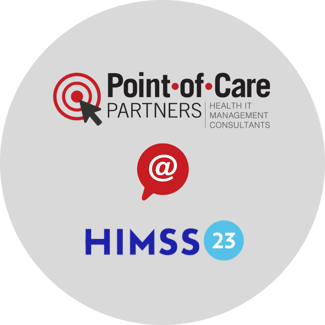 HIMSS23, the largest healthcare information and technology conference in the world, just wrapped up and it was an incredible event. With over 35,000 attendees and more than 1,000 exhibitors this year, it was a truly global gathering of healthcare professionals, thought leaders, and innovators. Attendance was up 21.5% over HIMSS22 according to some estimates.
POCP had a strong presence at HIMSS23, sending our key subject matter experts to participate in sessions and interact with attendees. POCPers not only participated in presentations and discussions but also took the opportunity to reconnect with clients and share their experiences, feedback, and concerns. By doing so, we gained a deeper understanding of the emerging challenges and opportunities in the healthcare industry. This approach of active listening and continuous learning is vital to staying ahead of the curve and delivering innovative solutions that meet the evolving needs of healthcare providers and patients. Because of our commitment to excellence and dedication to driving positive change in healthcare, we feel our SMEs' participation at HIMSS each year is a valuable investment.
One of the highlights of HIMSS23 for us was the Interoperability Showcase where POCP had a kiosk. Our SME's held office hours, drawing lots of long-time colleagues and new connections to ask great questions and have lively discussion. The location of our kiosk enabled us to have a bird's eye view of several presentations, including those at the Spotlight Theatre and Health Innovation Leaders stage. The Interoperability Showcase seemed to be the "place to be" as the traffic was impressive and there was no shortage of insightful and fascinating conversations to be had.
It was heartening to see the FHIR community out in full force. The HL7 Booth hosted several interesting sessions. The FHIR at Scale Taskforce (FAST) and Da Vinci both had kiosks in the Interoperability Showcase and participated in several presentations. FHIR and APIs are important tools progressing the path to interoperability. It's inspiring to be part of such an active, engaged, and collaborative community.
TEFCA also was given significant exposure at the showcase and conference in general, with many panel discussions where QHIN aspirants have begun to attempt to differentiate their offerings for potential participants and subparticipants. While not required in the initial go-live of QHINs, FHIR is on the TEFCA roadmap and will be key to TEFCA's future success.
Artificial Intelligence (AI) was a hot topic at HIMSS23, with several sessions, including the opening Keynote, dedicated to exploring its effectiveness, risks, and reality of using AI in healthcare. One of the ways AI has begun to be deployed in healthcare workflows is using ChatGPT and other AI technologies to aid in reducing administrative burden. These technologies were highlighted in exhibitor offerings and were demonstrated to attendees throughout the conference. Conversations around the ethical implications of AI, such as privacy concerns and data bias, were also discussed. It was clear that while AI has immense potential in healthcare, careful consideration and ongoing evaluation of its use is crucial to ensure its success in improving patient outcomes. It's important to note that there was a full day pre-conference and every session focused on machine learning & AI pointed to the need to have standards and interoperability to be successful.
Not surprisingly, health equity was another major focus at HIMSS23, with numerous sessions dedicated to addressing disparities in healthcare access and outcomes. The conference provided a platform for healthcare professionals and industry leaders to share their insights and experiences on how to promote health equity and reduce healthcare disparities. Speakers discussed the importance of understanding the social determinants of health and how they impact access to care, as well as the role that technology can play in addressing health equity.
In addition to the challenges of collecting SDOH data and how to use it best. Attendees also had the opportunity to learn about initiatives aimed at improving health outcomes for underserved populations, such as programs focused on increasing access to telehealth and mobile health technologies.
Overall, HIMSS23 highlighted the growing recognition of the importance of health equity in healthcare, and the need for collaborative efforts to tackle bias and ensure that everyone has access to quality care. We were glad to see the continued prominence of health equity at HIMSS this year. We've been helping stakeholders develop effective data strategies to ensure they have the right data to understand the problems their health equity strategy needs to address, as well as have the right data to measure the impact of those strategies and gain insights to change course when needed.
While there weren't very many payers exhibiting at HIMSS, payers were well represented in the attendee mix. We were able to have several discussions with payers about payer interoperability. Discussions also included how to improve adoption of provider tools like real-time benefit check and factors to consider for successful business transformation and improved data exchange not only with partners and members but internally between departments.
A very well-attended listening session with CMS and stakeholders from the PACIO project was focused on the challenge of data exchange between post-acute care settings and the rest of the healthcare ecosystem. Pooja Babbrah, POCP's Pharmacy & PBM Lead, participated in this listening session which brought to light the need for greater interoperability between hospital and post-acute care settings.
In perhaps a biased opinion, Jocelyn Keegan, Payer/Provider Lead, gave a standout presentation speaking about the intersection of policy, standards, and business strategy, and how interoperability is achieved not just through technology but business transformation. Jocelyn's dance card was quite full with this session as well as others covering the work of the Da Vinci Project.
This week we are all recovering from what felt like a non-stop HIMSS23, reflecting on all we learned and already looking forward to HIMSS24!
If you missed us at HIMSS23, you can check out our materials dashboard for presentations and other information.