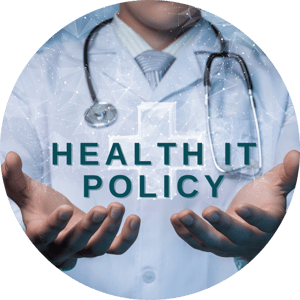 Point-of-Care Partners (POCP) recently responded to the Office of the National Coordinator for Health Information Technology (ONC) proposed rule on "Health Data, Technology, and Interoperability: Certification Program Updates, Algorithm Transparency, and Information Sharing (HTI-1)– RIN 0955–AA03."
POCP is glad to see ONC's efforts to prioritize health data, technology, and interoperability, particularly in the context of pharmacy interoperability. We know this will be a growing area of focus as the role of pharmacists as a key member of the care team continues to grow. The proposed rule acknowledges the significance of pharmacy interoperability in enhancing patient care, medication management, and health outcomes.
If done well, improving pharmacy interoperability could enable what many in the industry have been advocating for – access to real-time comprehensive medication histories and other clinically relevant information that can be used to reduce medical and medication errors, and promote coordinated care across different healthcare settings. Seamless interoperability supports accurate medication reconciliation, effective decision support, and improved medication adherence. Full-scale interoperability among all healthcare professionals, including pharmacists, ensures access to comprehensive patient health information, leading to better diagnosis, treatment, and disease prevention.
Our recommendations to facilitate effective pharmacy interoperability in response to the proposed rule included:
Standardized formats: Establishing and adhering to standardized formats for data exchange, such as National Council for Prescription Drug Programs (NCPDP) and Health Level Seven (HL7), ensures seamless interoperability and compatibility between systems.
Certification of pharmacy systems: Certification criteria defined by the ONC can drive improved interoperability by setting standards for pharmacy systems. This enables smooth data exchange, compatibility, and supports emerging requirements such as medication adherence and integration with healthcare technologies.
Drug price transparency and patient choice: Developers of certified health IT systems should incorporate features that provide real-time access to pricing information from various sources. This empowers patients to make informed decisions, manage costs, and access necessary support services.
Workflow certification and user experience: Certifying workflows, including ePrescribing and other pharmacy interoperability areas, ensures intuitive, efficient processes aligned with best practices. Incorporating NCPDP standards facilitates seamless information exchange, accurate medication reconciliation, and effective decision support.
We support the establishment of certification criteria utilizing the NCPDP Real Time Prescription Benefit (RTPB) Standard. Real-time prescription benefit certification would provide prescribers with accurate and up-to-date information on formulary coverage, prior authorization requirements, and cost-sharing details. This would enable informed medication selection, reduce delays in prescription processing, and increase transparency, potentially lowering out-of-pocket costs for patients.
The NCPDP RTPB Standard enables the exchange of crucial patient eligibility, product coverage, and benefit financial information. It offers two syntaxes, XML and EDI, to facilitate real-time prescription benefit communication. Implementers have the flexibility to choose the format that suits their needs, and intermediaries can be used for translation if necessary. To ensure successful implementation, POCP recommends providing test tools for certification using the chosen format.
Also, the consideration of supporting both NDC and RxNorm codes is important, but the use of SNOMED CT for clinical decision support is essential. While RxNorm is useful for clinical care, NDC plays a critical role in product identification.
Additionally, the NCPDP Formulary and Benefit Standard (F&B) has been updated to Version 6.0, including improvements like electronic prior authorization support. Encouraging integration of RTPB and other ePrescribing functionalities, such as F&B, within electronic health record (EHR) systems is crucial, along with education and training initiatives for healthcare providers. By prioritizing these recommendations, we can enhance interoperability and improve healthcare workflows.
Our response was intended to underscore the crucial importance of the RTPB standard, as well as the significance of standardized formats, certification of pharmacy systems, drug price transparency, and user-friendly workflows in advancing pharmacy interoperability. By embracing these suggestions, the healthcare industry can establish a framework for comprehensive interoperability that empowers patients, healthcare providers and pharmacists alike. This approach enables informed decision-making, enhances medication management, and improves overall healthcare outcomes.
You can find our full comment letter here. If you or your organization could use some help in understanding this or any new proposed rulemaking or final policy and how it might impact you, reach out to me to schedule a chat at kim.boyd@pocp.com. You can also learn more about the Interoperability Outlook subscription service designed to keep our clients up to date and in the know about policy, industry standards, and industry progress related to interoperability across healthcare, including pharmacy.