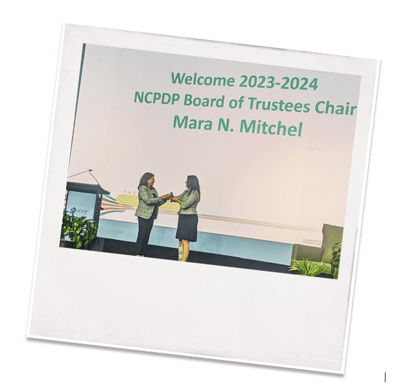 Hello, readers! Pooja Babbrah here, Lead of our Pharmacy & PBM services at Point-of-Care Partners (POCP) and former Chair of the Board of Trustees for the National Council for Prescription Drug Programs, Inc. (NCPDP). I'm thrilled to share my recent experience at the NCPDP Annual Meeting, where we as an industry collectively focused on the exciting new changes that are happening in the pharmacy industry. It was a really special meeting for me personally because after serving as Chair this past year, I had the honor to pass the gavel to Mara Mitchel, VP of Pharmacy at Oscar Health and witness the incredible potential that lies ahead for pharmacists and the pharmacy industry. In this blog, I want to give you a glimpse into the meeting, its significance, and the valuable discussions that took place.
The 2023 NCPDP Annual Meeting
Each year, the NCPDP Annual Meeting provides a platform for stakeholders from across the healthcare ecosystem to come together and engage in meaningful discussions. Attendees included pharmacists, payers, providers, technology vendors, and industry experts, all with a shared commitment to advancing pharmacy practice. There was an amazing turnout this year with a growing number of new member attendees.
The meeting offered a range of sessions, panel discussions, and networking opportunities that delved into crucial topics such as data standardization, interoperability frameworks, medication management, and more.
There were several key themes this year that are crucial to advancing pharmacy practice. One of the primary focuses was on closing gaps in care and promoting pharmacist advanced practice, with an emphasis on care coordination and innovation.
The Innovation Theatre was a big success. It was focused on innovation solutions around pharmacogenomics, digital therapeutics and pharmacy value-based care which created a lot of buzz with the crowd.
The convergence of NCPDP and FHIR standards was also a significant topic of discussion, with efforts aimed at streamlining processes and creating a unified approach through collaboration. There was also work and discussion around the formation of newer workgroups such as WG19 NCPDP Standards Coordination and WG20 Coordination of Care and Innovation (CoCI). These new work groups demonstrate a commitment to coordinating internal NCPDP standards efforts and fostering innovation in care coordination.
Additionally, the meeting shed light on the challenges faced in chronic care and patient care before and during the COVID-19 pandemic, emphasizing the need for pharmacists to meet patients where they are in their healthcare journey. The growing importance of patient care at home and improving transitions of care was also recognized.
There was a presentation related to a passion of mine, price transparency and real-time benefit check. The session presenters were my POCP colleague, Mike Burger and Excellus' Rick Jennejahn. The session focused on assessing and overcoming barriers to real-time benefit check adoption. This session garnered great participation and feedback from the attendees.
Lastly, the success and enjoyment of the Denim and Diamonds Foundation Pour event added a touch of fun and "bling" to the overall experience.
Passing the Gavel
Passing the gavel was a significant moment for me personally, as it marked the transition of leadership within NCPDP. The new chair is a seasoned pharmacy executive who is now working at a health plan, which is symbolic of how our industry is changing as there is no longer just a focus on pharmacy transactions under the pharmacy benefit, but the impact and overlap of pharmacy services with clinical services, providers, and health plans. Something we focused a lot on during our board meetings this past year. It also symbolized the ongoing dedication of NCPDP to drive innovation and collaboration in the pharmacy industry. As the outgoing Chair, I am excited to work through the transition with my esteemed colleagues and support the ongoing work to take NCPDP's strategic plan forward, furthering our mission of improving patient outcomes through effective data management and technology utilization.
A New Season for Pharmacy
In my "Passing of the gavel" remarks, I emphasized how our members help to meet the challenge I put out last year of how, as a standards development organization, we could think outside the box and support our member organizations, pharmacists, and pharmacies now that we are entering a new season in our industry. The focus on improving patient outcomes, interoperability, and care coordination has created a wealth of opportunities for pharmacists to play a more integral role in healthcare delivery. Some of these opportunities were highlighted in a recent Drug Topics article, where we explored the potential of data and technology in revolutionizing the pharmacy industry. Reflecting back on my year as Chair, I was excited to be able to move the needle forward in some of these areas including a pilot project on data exchange to support public health, the work done to better understand how NCPDP standards align with HL7 FHIR accelerators, and the launch of a new workgroup focused on care coordination and innovation!
Standardization and Collaboration
There is a pressing need to standardize and make it easier for payers, providers, and pharmacists to utilize and share existing data. At NCPDP, we are actively working on implementing and iterating our strategic plan to address these challenges. Our goal is to facilitate seamless interoperability and enable all stakeholders to leverage data effectively for improved patient care.
In Closing
Attending the NCPDP Annual Meeting is always an enriching experience, and it further reinforced my belief in the transformative power of collaboration and standardization in pharmacy practice. The meeting highlighted the tremendous opportunities that lie ahead, and the collective efforts needed to leverage data and technology for improved patient care. As we embark on this new season for pharmacy, let us embrace innovation, advocate for standardization, and work together to create a future where pharmacists play a central role in healthcare delivery.
Are you interested in learning more about NCPDP's initiatives or understanding the growing role of pharmacists in patient care and their critical role in the march toward health equity? I would love to chat and hear your perspectives! Feel free to reach out to me at pooja.babbrah@pocp.com. We must work together to collectively shape the future of pharmacy and create a more connected and patient-centric healthcare system.