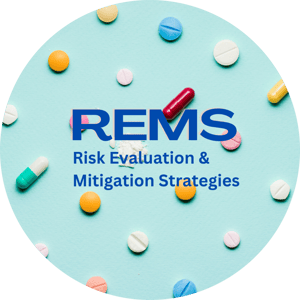 Point-of-Care Partners', Kelee Petzelt and Pooja Babbrah, who also contribute to the HL7 CodeX REMS Use Case, recently attended the REMS Industry Consortium and the 3rd REMS Innovation Summit. Before we jump into these events, let's level set on what REMS (Risk Evaluation and Mitigation Strategies) is and why the work on automating and innovating is so important.
What is REMS?
The FDA REMS program is designed to manage known or potential risks associated with certain prescription drugs or medical products. The REMS program is required for certain medications or products that pose significant risks to patient safety, such as drugs with serious side effects, drugs with a high potential for abuse, or products with complex administration procedures.
The FDA REMS program typically includes a range of measures designed to help ensure that the benefits of the medication or product outweigh its risks, and to ensure that the medication or product is used appropriately. These measures may include requirements for healthcare providers to undergo specialized training, for patients to be enrolled in a registry or follow certain monitoring procedures, or for certain distribution restrictions to be put in place.
Overall, the goal of the FDA REMS program is to provide a framework for the safe use of medications or products that have known or potential risks, while still ensuring that patients have access to important treatment options.
Need to Automate REMS
The current manual process of REMS requires a significant amount of coordination and communication between healthcare providers, pharmacists, and patients, to ensure that patients receive the appropriate care and monitoring for medications with known or potential risks.
For the past 40 years, automation and standards have played a significant role in the ability for providers to send a prescription electronically to a pharmacy and the pharmacy to dispense the medication to a patient. It wasn't until recently that standardization of additional clinical information such as allergies, and a patients height and weight was sent to a pharmacy in an automated fashion. Automation and standardization for sending additional clinical information along with a prescription is a growing trend in the healthcare industry (Read our article on specialty ePrescribing on FHIR), as it offers a way to improve efficiency and accuracy in medication dispensing. In the case of medications with REMS requirements, automation and standardization can be especially beneficial as it can help ensure that the medication is dispensed in accordance with the REMS program's requirements.
While the REMS program has added additional requirements and regulations for healthcare providers, patients, and pharmacies, it can be viewed as a positive measure to help ensure patient safety and mitigate the risks associated with certain medications. The FDA recognizes the potential burden that the REMS program can place on stakeholders and is committed to finding ways to automate the process and make it easier for providers to prescribe medications subject to REMS requirements. Through the use of technology and automation, it may be possible to streamline the process of managing REMS requirements, reducing the administrative burden on providers and pharmacies, while still ensuring that patients receive the necessary monitoring and care for their medication. Ultimately, the REMS program has the potential to enhance patient safety and improve the quality of care, and with continued innovation, the process of managing REMS requirements can become even more efficient and effective.
The FDA is now fully engaged and working together with manufacturers toward the common benefit of automation and its impact to adherence and ease of prescribing.
The Importance of the REMS Industry Consortium and REMS Innovation Summit
The REMS Industry Consortium (RIC) is a group of stakeholders from across the healthcare industry, including healthcare providers, pharmacies, drug manufacturers, and regulators, who work to develop best practices and solutions to improve the REMS (Risk Evaluation and Mitigation Strategies) process. The consortium focuses on identifying common challenges and developing standardized solutions that improve patient safety and the overall efficiency of REMS programs. Another objective is to work more closely with FDA, especially as biosimilars and other emerging therapies may require REMS adding to the list of 61 drugs that already require it.
The attendees for the inaugural RIC meeting were predominantly manufacturers from companies like TEVA, Bristol Myers Squibb, Janssen to name a few. The FDA sent 4 representatives to the RIC meeting and were met with a warm reception as attendees welcomed the opportunity to speak with FDA face to face. There were no pharmacies or health systems in attendance and the small number of healthcare technology vendors that were there were observers. Overall, this was a very successful event garnering a lot of helpful feedback and discussion.
The 3rd REMS Innovation Summit, on the other hand, is an annual event that brings together leaders from the healthcare industry to discuss the latest trends, challenges, and solutions related to REMS. The summit features keynote speeches, panel discussions, and interactive sessions that provide attendees with valuable insights and information on how to improve the REMS process. At the summit, attendees were able to connect with other industry stakeholders, share best practices, and learn about new technologies and solutions that can help streamline the REMS process.
The attendees of the REMS Innovation Summit were predominantly manufacturers, FDA did not attend this event.
What's Happening With REMS in the Industry?
CodeX and REMS
The CodeX REMS Use Case aims to create an integrated, automated, efficient, and effective REMS program by leveraging open data standards to enable REMS integration. The current REMS program faces gaps in data interoperability, making communication and coordination among stakeholders difficult. Additionally, REMS are not built into current workflows, leading to additional burden on stakeholders. The goal of the CodeX REMS Use Case and the REMS Integration Platform is to create a workflow that is accurate, timely, and easy for stakeholders, allowing for more time spent with the patient and ultimately an improved experience. The ultimate goal is to create an interactive and innovative solution to address the challenges associated with managing REMS requirements.
NCPDP & REMS
The NCPDP REMS Task Group is a group of stakeholders from the pharmacy industry that aims to improve the REMS (Risk Evaluation and Mitigation Strategies) process. One of the key goals of the task force is to develop NCPDP standards to work alongside HL7 (Health Level Seven) standards to automate the REMS process end-to-end. HL7 is an international organization that develops standards for the exchange, integration, sharing, and retrieval of electronic health information. The use of both NCPDP and HL7 standards in REMS would provide a standardized way for data exchange, making communication and coordination among stakeholders easier and more efficient. This would allow healthcare providers and pharmacies to manage REMS requirements in real-time and in a way that is integrated into existing workflows. Ultimately, the goal of automating REMS is to reduce the administrative burden on stakeholders, improve patient safety, and provide a more efficient and effective REMS process. The NCPDP REMS Task Group is working closely with HL7 to develop standardized solutions that will make the incorporation of HL7 standards into REMS a reality.
POCP currently supports CodeX in a program management role. To learn more about the work CodeX is doing on REMS, visit the CodeX confluence page and consider joining public calls or email the REMS Use Case Lead, Kelee Petzelt kelee.petzelt@pocp.com. If you need help navigating business challenges related to REMS or another health IT-related challenge, reach out to pooja.babbrah@pocp.com to schedule a chat to explore whether we can help.