Part 1. What Are Digital Therapeutics?
By Tricia Lee (Wilkins) Rolle, PharmD, MS, PhD
Government Affairs and Health IT Strategist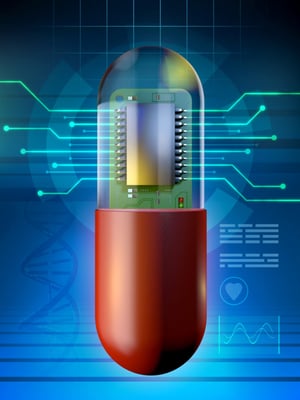 The patient swallows a pill with an embedded sensor. Within seconds, specialized software in the patient's smart phone provides a readout of clinically related information. Science fiction? Hard to believe it, but that scenario is playing out today. Such technology—and other seemingly futuristic ways of diagnosing, treating and monitoring diseases—are available today through a rapidly growing kind of specialized products called Digital Therapeutics (or DTx).
DTx capitalizes on the convergence of evidenced-based software and mobile technologies to prevent, treat and manage conditions on a patient-specific basis. As one industry analysis summed it up: DTx are disruptively poised to shift medicine's emphasis from physically dosed treatment regimens to end-to-end disease management by leveraging mobile technology.
This two-part series explores the transformative landscape of DTx. This article (Part 1) focuses on the definitions and benefits of DTx. Part 2 will examine opportunities and challenges facing the nascent industry.
DTx are disruptively poised to shift medicine's emphasis from physically dosed treatment regimens to end-to-end disease management by leveraging mobile technology.
What are DTx? DTx bear similarities to digital health apps, trackers and wellness programs, which also use various digital technologies to diagnose and monitor patients' health progress. FitBit is a familiar example. However, DTx are not synonymous with digital health and wellness programs. According to the industry group Digital Therapeutics Alliance, DTx products have distinct properties. They must have rigorous quality controls, undergo randomized clinical trials and obtain approvals by a regulatory body, such as the Food and Drug Administration (FDA). DTx must collect, analyze, and apply real world evidence and product performance data, as well as engage end users in product development and usability processes. Unlike many wellness apps and personal health trackers on the market today, DTx must be prescribed for use.
Most DTx target specific conditions that have an unmet need such as limited treatment options, or conditions where engaging patients outside usual sites of care will impact their adherence and clinical outcomes. These include chronic diseases (whose treatments account for a huge chunk of the health care budget), neurological disorders and mental health conditions. In fact, as this emerging field of digital medicine grows, DTx may replace or supplement current treatment options, due to their added ability to help modify patient behavior and provide remote monitoring to improve long-term health outcomes.
The following examples are eye opening. Propeller uses a sensor placed on an inhaler for asthma or chronic obstructive pulmonary disease (COPD), which syncs to an app in the patient's smartphone. The battery is active for about a year and sends patients reminders and tracks doses. This improves medication adherence and significantly reduces the patient's need for a rescue inhaler. reSET® is an FDA-cleared software package that delivers substance use disorder treatment, teaches new coping skills and reports progress to a clinician. It combines patient-facing interventions and assessments via a mobile device, with clinician-facing dashboards and data analytics on the back-end.
Then there's Abilify MyCite, which is the first-FDA approved pill with an embedded sensor to track medication adherence. It will be used for the treatment of schizophrenia, acute treatment of bipolar I disorder and as an add-on treatment for depression. When the medication is swallowed, a sensor in the pill will send a message to an abdominal patch, which then transmits the information to a mobile app. Patients can then track their compliance on their smartphones. With the consent of the patient, caregivers and doctors can also retrieve the information online.
Digital Therapeutics Benefits
DTx offer numerous potential benefits. For example, digital therapeutics may:
Deliver treatment more efficiently than traditional therapies by enhancing provider-patient engagement and capturing health data for clinical decision making.
Address certain access to care issues by making treatments more widely available to patients through mobile devices and technologies.
Reduce the stigma attached to traditional therapies, such as for mental health conditions.
Support precision medicine by capturing data for actionable insights and customized therapies.
Support national health care quality efforts to empower patients with access to their health data and incorporate use of patient reported outcomes in health care.
Digital Therapeutics Outlook
The DTx industry is in its infancy. According to one estimate, the global DTx market was $1.7 billion in 2016. It is projected to grow at a rate of 21 percent over the next few years, bringing it to nearly $9.4 billion by 2025. One unnamed sourced shared that although overall investments in digital health are growing, investments in DTx account for just 2 percent of venture capital funding in the U.S.
Experts believe that the potential for DTx is enormous due to its potential to lower costs, improve outcomes and capitalize on consumerism in health care.
Want to know more? Be sure to stay tuned to my second blog, which explores challenges and opportunities for getting DTx primed for takeoff in the market. I'd also be happy to discuss this with you in person. Please feel free to drop me an e-mail at tricialee.wilkins@pocp.com.