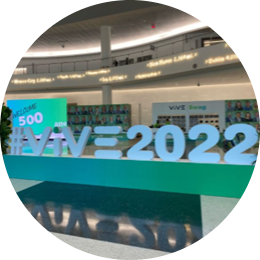 The inaugural ViVE conference kicked off March 6 in Miami Beach, boasting an impressive lineup of educational, exhibit hall, and networking opportunities that enabled attendees to mix, mingle, and learn amidst palm trees swaying under sunny skies. Co-hosted by CHIME and HLTH alongside CHIME's Spring Forum, the four-day event offered dozens of sessions covering themes ranging from home-based care, AI and automation, health equity, policy, cybersecurity, payment, access, and strategy. The exhibit hall, filled with nearly 275 vendors – from startups to established companies who've spent decades developing health IT – offered ample opportunities for attendees – largely C-suite executives from health systems, vendors, and investment firms across the country – to learn about the latest innovations.
I flew in for the show with my Point-of-Care Partners colleagues, many from slightly cooler climes, to meet with clients; present at several sessions; and gain a better, first-hand understanding of industry challenges, particularly regarding patient engagement and how interoperability is being applied to the growing health-at-home movement.
The show didn't disappoint, in that there was a lot of talk in educational sessions and on the exhibit floor about what can be done at home. Based on the vendors that I saw and chatted with, a lot of innovation is happening to better care for patients outside of traditional healthcare settings. It seems that in the not-too-distant future, patients really will be able to age in place and get the care they need at home.
Back in the Conference Routine
ViVE marked a welcome return for many to the traditional spring conference season, typically kicked off by HIMSS. After nearly two years of COVID-induced virtual and/or smaller, more restricted industry events, ViVE attendees - myself included - definitely enjoyed the chance to meet face-to-face with our peers. Conference organizers even went so far as to offer color-coded wristbands indicating a wearer's comfort level with personal interactions. I enthusiastically donned a green band, quickly tweeting afterwards, "And I'm all set! Bring on the hugs!"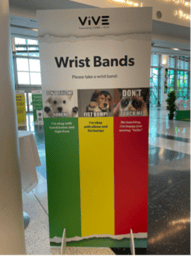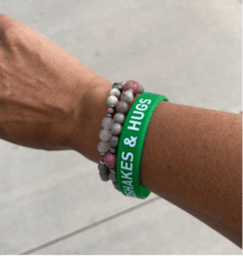 POCP Leaders Host ViVE Educational Sessions
I had the opportunity to moderate several panel discussions, including "Advancing Value-Based Care Agreements in the Post-Pandemic World," on the third day of the conference. Held in the InteropNow! Pavilion, panelists Don Woodlock of InterSystems, Shriya Palekar of TytoCare, and Matthew Peters, MD of Rose Health and I had a lively discussion about technology's post-pandemic role in value-based care, especially in light of its use during COVID to improve the management of chronic diseases.
As moderator of "The Impact of the 21st Century Cures Act on Informed Consent: Exploring the Complexity of Data Sharing in an Interoperable World," also held in the InteropNow! Pavilion, I joined panelists Jim St. Clair from the Linux Foundation, Shane McNamee with Smile CDR, and Paul Wilder from CommonWell in sharing with attendees the data-sharing complexities and solutions for digitally capturing patient consent as they move through various healthcare settings.
I kept my ViVE plate full with a presentation in the exhibit hall on a new community of practice being established by the Interoperability Institute that will focus on sharing best practices around e-consent and the ways it can help improve care coordination amongst providers and social service organizations.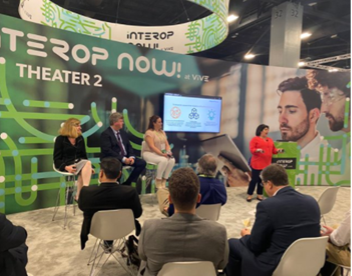 During my "downtime," I took in my colleague Jocelyn Keegan's panel on "Achieving Value-based Care Through Early FHIR Adoption of HL7 FHIR Da Vinci Implementation Guides." As POCP's payer project lead, Keegan was well-equipped to offer an update on the HL7 Da Vinci project, which aims to drive data exchange between payers and providers in keeping with federal requirements. Panelists Lynda Rowe of InterSystems, Kristen Valdes of B. Well, and Duncan Weatherston of Smile CDR shared their companies' experiences with implementing the standards using the Da Vinci guides.
That session was definitely one of my favorites. Aneesh Chopra, who was there as a panelist, started doing what he does best by gathering the crowd and encouraging more people to share. While panelists shared stories about FHIR implementation this session really evolved into an implementer support forum, with folks from the audience and even passers-by sharing their own stories. That just doesn't happen at more traditional events like HIMSS.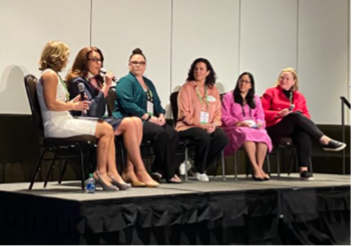 Kim Boyd and I both enjoyed the invite-only "Future of Health – Through the Lens of Female Founders and Allies Breakfast" hosted by Springboard Enterprises and Rex Health Ventures, on, appropriately enough, International Women's Day. It was empowering to see so many female CEOs of startups sharing personal stories and experiences of not only being entrepreneurs, but of having been patients and caregivers themselves.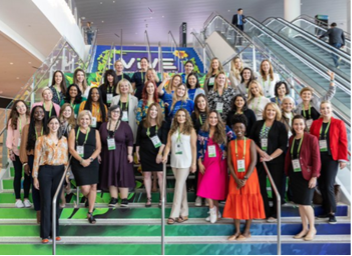 ViVE's #WomenInHealthIT vibe was contagious, as nearly 40 women walking the conference halls gathered later that day for this impromptu pic.
What's the Difference?
With HLTH in the fall, and HIMSS, CHIME, and now ViVE in the spring, the health IT industry seems to have its pick of big, splashy educational, exhibit, and networking opportunities. After the show, I was left wondering, how does one choose? What makes for the best ROI?
ViVE felt more like a networking event, with its hosted buyer program and short tech talks, while HIMSS is more like that traditional trade show where there are continuous learning sessions. HLTH, on the other hand, is more for new tech/investors.
It will be interesting to see how ViVE evolves. There is definitely going to be a push to focus on health systems, and to also make sure more of the right partners are brought to the table to figure out some of the bigger challenges health systems face. Payers need to be more represented here to establish reimbursement and how some of these new innovations can support value-based care.
Key Take-aways
I came back from Miami Beach with home-based care and FHIR-powered interoperability top of mind. Health-at-home is definitely coming sooner than we expected. Meeting with docs via telehealth is one thing, but having the tools at home to monitor, test, etc. is another.
Another key take-away is that adoption of FHIR will be iterative, with health systems adopting it for the use cases where it makes the most sense. But in other areas where other standards are doing the job well enough, they won't adopt right away. As systems run the course of their life and need to be updated, that would be an opportunity to make that part of their system FHIR-enabled.
The FHIR session featuring Zus Health CEO Jonathan Bush solidified for me that there are use cases where FHIR should be used, but the reality is that health systems aren't going to rip and replace systems to adopt it. There are situations like patient access and app development where FHIR is ideal.
As I mentioned in a recent LinkedIn post, my biggest takeaway from this event was that it felt different. The panels, the discussions, the impromptu roundtables … it all felt fresh, exciting, and hopeful! There really are some great things happening in health IT. CHIME and HLTH did an amazing job capturing that energy with this inaugural event. I'm already looking forward to ViVE2023."
If you didn't get a chance to meet with me or a Point-of-Care Partners colleague at ViVE 2022, reach out to me at pooja.babbrah@pocp.com . I'd love to talk to you about your goals and any challenges your organization might be facing.