By Pooja Babbrah, Practice Lead, PBM Services
and Jocelyn Keegan, Payer/Practice Lead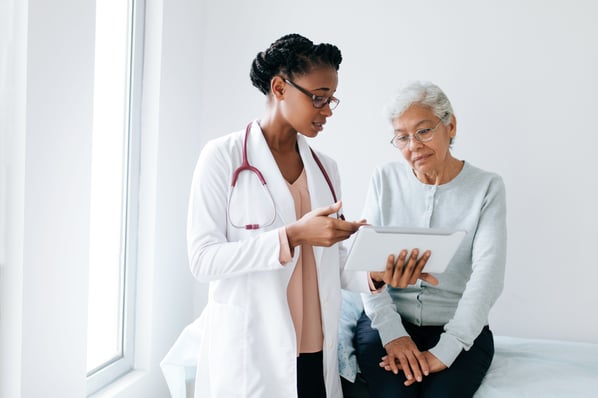 Through recent statute and regulations, the Congress and federal government have finally given recognition to two standards from the National Council on Prescription Drug Standards (NCPDP) for use by the industry. One standard for electronic prior authorization (ePA) was specifically named in a regulation from the Centers for Medicare and Medicaid Services (CMS) for use in Medicare Part D. This was required under the 21st Century Cures Act. The Consolidated Appropriations Act of 2020 (which funded the federal government for fiscal year 2021) calls for Health and Human Services (HHS) to adopt a real-time pharmacy benefit (RTPB) standard. Although the law does not name the NCPDP RTPB standard as the one to be used, the text of this section of the law does name NCPDP as the potential standards organization for the Department of Health and Human Services (HHS) to review when they do name a standard for this transaction. This is a big deal, as we explained in the first part of this blog (Click here to learn more.)
So what's next? There are many new and ongoing efforts at NCPDP and elsewhere that address standards-based needs in the current health ecosystem, as well as the Biden administration's health priorities. For example:
A consumer-based RTPB standard. As mentioned above, Medicare Part D has adopted a real-time benefit "tool" for the point of prescribing. Now there is movement afoot for a similar standard for consumers, which can be incorporated into an application programming interface (API). Adoption of APIs has accelerated in response to requirements 21st Century Cures Act and implementing regulations. These set requirements, such as the development of APIs for consumer-directed data sharing among patients, providers and payers using HL7's FHIR (Fast Healthcare Interoperable Resources) Standard. FHIR increasingly is becoming the go-to standard to enable streamlined and efficient access to health information and real-time communication. The NCPDP task group focused on the NCPDP RTPB standard has created a sub-task group to review an HL7 FHIR Implementation guide, created by the

CARIN

Alliance

.

This will allow consumers, using an application programming interface (API), to see the options and costs of drugs for a particular condition covered by their insurance. The implementation guide was developed in a way that uses NCPDP code sets so it would be easier for stakeholders who have implemented the NCPDP standard to also adopt this consumer-facing one. This is in CARIN's wheelhouse as a multi-stakeholder alliance aimed at connecting patients to their medication costs.



Potential adoption of the PDMP facilitator model. The NCPDP facilitator model was developed to standardize the way prescriptions for controlled substances are checked when they are created or filled using state prescription drug monitoring programs (PDMPs). PDMPs were created to help prevent drug diversion and doctor shopping in response to the opioid epidemic. Although the crisis may have been overshadowed by the COVID-19 pandemic, opioid misuse and overdoses remain a major public health problem. According to the Centers for Disease Control and Prevention (CDC), there were more than 81,000 drug overdose deaths in the 12-months ending in May 2020—the highest number ever recorded in a 12-month period.

PDMPs are state-run electronic databases that have been deployed in 49 states, excluding Missouri. In most cases, the PDMP must be checked before a Schedule II prescription is "written" electronically and filled. However, each state has its own PDMP infrastructure, which is not standards based. This becomes problematic in two ways. First, checking the PDMP is outside the prescriber's workflow, adding extra time and the "hassle factor" to the process. Second, while the PDMP workflow is becoming integrated into electronic health records, these connections are proprietary and do not use standards which lead to interoperability issues.

That is why Congress recognized the benefits of the facilitator model: it leverages existing NCPDP Standards, allows sharing of complete and accurate real-time information, allows BOTH prescribers and pharmacists to make clinical decisions prior to prescribing/dispensing, and allows proactive notification of potential diversion and doctor shopping. Section 2823 of the Consolidated Appropriations Act of 2020 directs HHS, through the CDC and the Office of the National Coordinator for Health Information Technology (ONC) to expand, modernize and improve existing data infrastructure. It further directs the CDC and ONC to give deference to standards published by consensus-based standards development organizations, such as NCPDP.



Addressing the administration's health priorities. The Biden administration's new health priorities include several that are already being addressed by standards development groups. For example, NCPDP already has workgroups that focus on priority issues concerning social determinants of health, drug pricing, strengthening the Affordable Care Act and expansion of Medicare and Medicaid. POCP expects the new administration to drive forward nonpartisan progress on true interoperability, work on which now spans four administrations.

We also are likely to see continued movement toward FHIR and data liquidity that are the focus of 21st Century Cures legislation, the Patient Access APIs and the proposed rule on Burden Reduction. The appointment of Micky Tripathi to head ONC also signals continued forward progress on data sharing and interoperability. Among other things, Dr. Tripathi is a data exchange native and hea

d of the

A

rgonaut Projec

t

,

not to mention having in-depth experience with various facets of health information technology. His appointment, plus the initial FHIR accelerator efforts, show a strong commitment to continue the industry shift to APIs and standards.


Response to COVID-19. One of President Biden's first official acts was to issue an Executive Order on "Ensuring a Data-Driven Response to COVID-19 and Future High-Consequence Public Health Threats." Section 3 directs HHS review effectiveness and interoperability of existing public health infrastructure and issue a report. Section 4 directs the Office of Science and Technology Policy to develop a plan for advancing innovation in public health data and analytics in the U.S. We believe that standards for healthcare data exchange, including those for NCPDP, will feature heavily in the discussion. In addition, the text of the Executive Order sets the stage to accelerate development and adoption of health information technology standards for facilitating the real-time collection and exchange of health data and patient information for public health applications.


Medical electronic prior authorization (ePA). Electronic prior authorization (ePA) for drugs covered under the pharmacy benefit is maturing and expanding to include those covered under the medical benefit, and ePA for devices and procedures is evolving. Currently, most PAs for those drugs and devices are processed manually through antiquated phone, fax and paper processes. Many stakeholders, including NCPDP, are pushing to make ePA the norm rather than the exception to address providers' challenges and concerns related to administrative burden and delayed time to therapy. The use cases under development at HL7; coverage requirements discovery, documentation templates and rules and are the work of the FHIR Accelerator, the

Da Vinci project

(Point-of-Care Partners leads program management) and significant in-kind resources from CMS, payers and providers are paving the path forward to increase information equality, reduce need for prior authorization through this increased transparency and when needed automate prior authorizations to the fullest extent possible.


Specialty pharmacy. Use of specialty medications is accelerating, with these drugs accounting for half of the drug spend and continuing to grow. Yet specialty pharmacy is still largely unautomated. Standards work will continue to be the backbone of progress in automating and standardizing specialty pharmacy transactions. In fact, there is an NCPDP workgroup that is bringing greater focus and coordination in how NCPDP standards are used for the electronic exchange of data in specialty pharmacy, including addressing gaps that exist in ePrescribing for specialty medications. We have already seen the first standard come out of this effort to automate various aspects of specialty pharmacy. NCPDP and HL7 worked together to create a standard to extract the clinical data required for enrollment for specialty medications from the electronic health record

(

EHR). The specialty patient enrollment standard was approved by at the NCPDP November workgroup meeting and is currently in the final phases of the HL7 ballot approval process.
Looking ahead. It is clear that standards are no longer hiding in the technical shadows in health IT and are coming into their own in health policy. They will take an increasingly important role in healthcare in general and in addressing specific federal and state healthcare goals. As a result, this will be a busy year on the regulatory front at the federal and state levels. Point-of-Care Partner's Regulatory Resource Center team is closely following developments in all of these areas through various subscription tracking services. To learn more about our services tracking regulations and legislation related to ePA or ePrescribing, visit here. If you're more interested in the broader interoperability landscape including regulations, legislation and standards development, learn more about our Interoperability Outlook subscription service here.
In the meantime, reach out to us for more information on NCPDP, FHIR, ePA and the RTPB at pooja.babbrah@pocp.com and jocelyn.keegan@pocp.com.